I swear that toddlers' arm spans are insanely long compared to their height. My daughter has the ability to reach all kinds of things that I feel like should be out of her grasp (especially when sitting in a high chair or booster) but when it comes to height she is just at that awkward stage where she is still a smidge too short.
This height issue makes it a pain to try and help her wash her hands, brush her teeth, or let her "help" cook. The easy fix is to get a step stool, right?
I was pumped to get Bryn a stool for V-day because I had wonderful plans for it. She would no longer be dragging our dining room chairs across the kitchen floor to stand next to mommy or daddy during meal prep. I would no longer have to awkwardly hold her up to the sink or sit her on the counter and lean her (half falling) into it.
I was set on getting her a wooden step stool because I wanted it to be something that looked nice enough to be left out around the house. After I had my mind set on what I wanted I scoured my trusty friend, the internet for way too long. Here is what I came up with: step stools are ridiculously expensive!
I started my search with Wal-mart to get a base price comparison and found a white wooden stool with little character for $30. This seemed high but I thought I'd check out the more cutesy ones to see what they ran.
I loved the Pottery Barn Kids style, color options, and personalization feature but not so much the final total of around $70.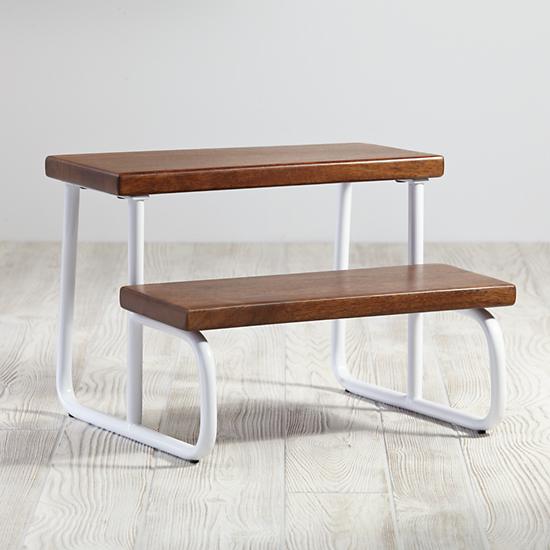 stool from Land of Nod
I looked on etsy, Target, and Land of Nod and was still disappointed in both the selection and the pricing. I kept the above beauty in the back of my mind because it seemed light weight to carry around from upstairs to down, it was gender neutral, and I saw potential for using it after we no longer had any toddlers in the house. But the price tag had me wanting to cry.
Enter the all-amazing: Home Goods. While out shopping one day I talked Nathan into stepping into TJ Maxx (by gently reminding him of the $70 options in the back of my mind) where we found a few stools that were cute but very girly and only $19.99! There was hope!
The next day, Bryn and I set out on a #homegoodshappy mission that did not disappoint.
This little beauty has been a life saver and for only $30, it was a budget saver as well. Momma's happy because it looks good, Bryn's happy because she feels like a big girl, and Daddy is happy because he doesn't have to shop anymore. Win for all!